The Benefits of ABS Plastic in Injection Molding
ABS (Acrylonitrile Butadiene Styrene) plastic is a thermoplastic polymer often used in the injection molding process. It is one of the most common plastics used in OEM part production and 3D print manufacturing.
The chemical properties of ABS plastic give it a relatively low melting point and a low glass transition temperature, meaning it can be easily melted down and molded into different shapes during the injection molding process. ABS can be repeatedly melted down and reshaped without significant chemical degradation, meaning the plastic is recyclable.
ABS is relatively safe to handle as it cools down and hardens, making it one of the easiest plastics to handle, machine, paint, sand, glue, or otherwise manipulate. Other benefits of products made of ABS plastic include:
Strong impact resistance
Strong heat resistance
High tensile strength
Shock absorbance
Scratch resistance
Low cost
Acrylonitrile Butadiene Styrene, or ABS plastic, is an opaque thermoplastic. It is an amorphous polymer comprised of three monomers, acrylonitrile, butadiene and styrene. ABS is most commonly polymerised through the emulsification process or the expert art of combining multiple products that don't typically combine into a single product.
When the three monomers are combined, the acrylonitrile develops a polar attraction with the other two components, resulting in a tough and highly durable finished product. The different amounts so f each monomer can be added to the process to further vary the finished product.
The versatility of ABS plastic properties contributes largely to its popularity across several industry sectors. From computer keyboard keys to LEGO, products made from ABS can be found all around the world in multiple domestic, commercial and specialist settings.
ABS material Properties
The acrylonitrile in ABS provides chemical and thermal stability, while the butadiene adds toughness and strength. The styrene gives the finished polymer a nice, glossy finish. ABS has a low melting point, which enables its easy use in the injection moulding process and 3D printing. It also has high tensile strength and is very resistant to physical impacts and chemical corrosion, which allow the finished plastic to withstand heavy use and adverse environmental conditions.
ABS can be easily moulded, sanded and shaped, while its glossy surface finish is highly compatible with a wider range of paints and glues. ABS plastics takes colour easily, allowing finished products to be dyed in exact shades to meet precise project specifications.
ABS applications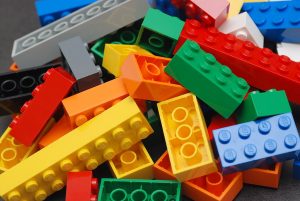 As well as its uses in computer keyboard components and LEGO bricks, ABS is commonly used to make plastic face guards for wall sockets and protective housing for power tools. It is commonly used in the automotive field too, for items such as plastic alloys and decorative interior car parts. In the construction industry, ABS comes into its own in the manufacture of plastic tubing and corrugated plastic structures. It can be cut to size and comes in a wide range of colours and finishes. It also comes in handy in the manufacture of protective headgear such as hard hats and helmets. Other common uses for the ABS thermoplastic polymer include printers, vacuum cleaners, kitchen utensils, faxes, musical instruments (recorders and plastic clarinets, to name just two) and plastic toys.
Plastic items designed to live outside are often made from ABS as well since the versatile thermoplastic can stand up well to rain, storms and winds. However, to prolong its life outdoors, it must be adequately protected from UV rays and exposure to more extreme weather conditions. Its relatively cheap production costs also enable it to be used cost-effectively for producing prototypes and plastic preview models.
Key Properties of ABS
ABS is an ideal material of choice for various structural applications, thanks to its several physical properties such as:
High rigidity
Good impact resistance, even at low temperatures
Good insulating properties
Good weldability
Good abrasion and strain resistance
High dimensional stability (Mechanically strong and stable over time)
High surface brightness and excellent surface aspect
ABS shows excellent mechanical properties i.e. it is hard and tough in nature and thus delivers good impact strength. Acrylonitrile Butadiene Styrene offers a high degree of surface quality. Apart from these characteristics, Acrylonitrile Butadiene Styrene exhibits good electrical insulating properties.
Chemical Properties of ABS
Very good resistance to diluted acid and alkalis
Moderate resistance to aliphatic hydrocarbons
Poor resistance to aromatic hydrocarbons, halogenated hydrocarbons and alcohols
ABS is readily modified both by the addition of additives and by variation of the ratio of the three monomers Acrylonitrile, Butadiene and Styrene. Heat stabilizers, hydrolysis stabilizers, lubricants, UV stabilizers etc. are being used in non-reinforced and reinforced grades to increase specific material properties.
Hence, grades available include:
High and medium impact
High heat resistance, and
Electroplatable
Fire retardant grades can be obtained either by the inclusion of fire retardant additives or by blending with PVC. In order to increase stiffness, impact resistance and dimensional stability, ABS can be reinforced with fibers, fillers, minerals, etc. It can lead to loss on transparency, yield strength.